The HTC One comes with a camera that's unique in the smartphone world. It's only the second mobile phone camera to be optically stabilized and it's the first to use a new design which involves photosites that are three times as big as those on a 12MP size. And since the sensor is equally sized to a 12MP sensor, it only gets to capture a third of the resolution. In HTC marketing talk these larger photosites are calls UltraPixels.
The ultrapixels are bigger than you would get on all other current cameraphones. The Nokia N8 had 1.75-micron pixels, while the 808 PureView and the iPhone 5 both have 1.4-micron pixels. So, each pixel in the HTC One camera is twice the size of a pixel in the 808 and iPhone 5 cameras.
Bigger pixels mean lower noise levels and usually, betery dynamic range. Low-light performance is also helped by the Optical Image Stabilization (OIS) as we saw on the Nokia Lumia 920.
HTC has prepared this image to show how the One camera stacks up against competing smartphones.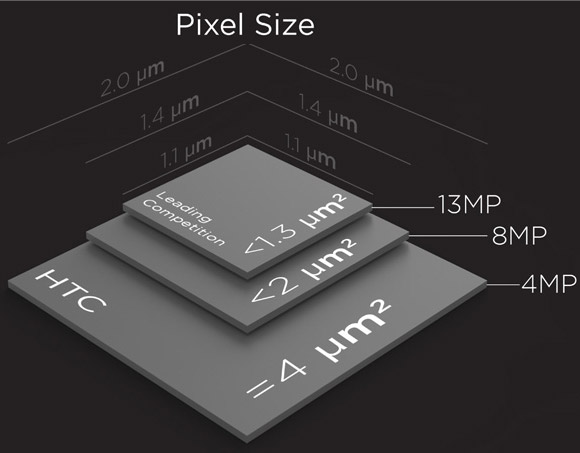 The sensor used in the HTC One has a 1/3″ diagonal with a 16:9 aspect ratio and it's mounted behind a 5-element lens with F/2.0 aperture. The sensor takes photos with 2688 x 1520 resolution, which amounts to 4MP.
HTC has included a second-generation ImageChip to process the images captured with the camera and also handle the needs of HTC Zoe.
The HTC One continues the trend of using a unified camera interface for stills and video. We didn't like it all that much on the One X and its siblings and we have to admit we're not big fans of it now. Our biggest complaint – that you see a 4:3 viewfinder – even though you are shooting 16:9 content has been fixed mostly because the image sensor has a 16:9 aspect ratio and not 4:3.
Before, you had to switch to 16:9 mode for the photos (dropping from 8MP to 6MP) just to get a proper viewfinder, which would allow you to frame your videos properly. Now things are quite the opposite – if for some reason you want a 4:3 photo rather than 16:9 the sides of the image get cropped out, giving you only 3MP resolution.
Another complaint is that all still and video settings get dumped into one menu, instead of just getting the relevant settings depending on the current mode.
Via www.gsmarena.com